Wobble and roll
Eno's latest collaborations push the ambient envelope

by Brett Milano
---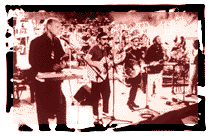 For all the lofty musicology that gets attached to Brian Eno, his contribution to music remains a simple one. He makes interesting sounds. Never a great singer, player, or composer, he was perhaps the first rock musician to choose psycho-acoustics as his ax - beginning in Roxy Music, when he discovered new ways for synthesizers to unsettle a song. As a producer, he specializes in making deep and textural music deeper and more textural. So his invention of ambient music was a logical extension of his rock-band work, this time mixing fascinating sonics with purposely boring compositions. (When others began making the sonics boring as well, new age was born.)


What Eno hasn't often done is to involve rock musicians in his ambient/instrumental experiments, but the few exceptions - Low, with Bowie; My Life in the Bush of Ghosts, with David Byrne; and a pair of albums with Robert Fripp - rank as the most groundbreaking work he's done. Original Soundtracks 1, Eno's new collaboration with U2 under the band name the Passengers, fits in that category. It's being released this week along with another of his rare semi-rock collaborations, Spinner (Caroline), which features ex-Public Image Ltd. bassist turned all-'round-experimenter Jah Wobble.


The slighter album of the two, Spinner is unique among Eno collaborations because the two participants didn't actually collaborate. Eno turned a finished film soundtrack (for Derek Jarman's Glitterbug) over to Wobble, who added substantial overdubs without altering Eno's original parts. Thus Eno plays the straight man for the first time in his career, providing the source material for Wobble to Eno-ize.


As he did in PiL, Wobble gets the job of making the music more linear, which he does either by adding his trademark quasi-funk basslines or by piling on so many rhythm tracks that Eno's original parts are only subliminal. By turns recalling Bush of Ghosts (on &quotUnusual Balance,&quot where an Arabic vocal is added), the closing suite of PiL's Metal Box, and countless minor Eno projects, Spinner is background music with a chilly sensuality - in short, bachelor-pad music for the '90s.


The letter U and the numeral 2 appear nowhere on Original Soundtracks 1, which Island is doing its best not to position as new superstar product. Although this isn't a standard U2 album, neither was Zooropa - and the two are closely related, though Soundtracks goes further in phasing out familiar rock-band sounds, including Bono's vocals, which appear undoctored on fewer than half of the 14 tracks. But both albums feature suggestively nonlinear songs, both have a cameo from an unlikely singer (Johnny Cash on Zooropa, Luciano Pavarotti here), and both are flawed-but-fascinating works that maintain the experimental thread of U2's first Eno-produced album, The Unforgettable Fire.


With each track keyed to an obscure or unreleased art film (instant snob appeal), Soundtracks is really about exploring the undiscovered sounds a rock band can make and the moods that can be suggested when they're not restricted to rock songforms. The opening &quotUnited Colours&quot has the feel of an especially tense U2 guitar/bass/drum jam but is tenser still because all three instruments are MIDI'd beyond recognition. Likewise, &quotCorpse&quot uses vinyl-record surface noise to make an already unsettling song that much chillier.


&quotSlug,&quot &quotYour Blue Room,&quot and &quotAlways Forever Now&quot have the choruses of great U2 songs but without the rest of the songs attached. Instead of verses and bridges, Eno and the band add subtler, evocative elements - a rain of Edge guitar harmonics on &quotSlug,&quot a haunting gospel organ and choir on &quotBlue Room.&quot Those are the album's most U2-like numbers. Elsewhere there are a few purely ambient tracks (one of which hangs synth shadings on a pre-taped Japanese vocal) and a potential hit single (&quotMiss Sarajevo&quot) that's brilliantly sabotaged with Pavarotti's entrance. And on &quotLet's Go Native&quot you find the band funking out while a distantly miked Bono sings, of all things, &quotHava Nagila.&quot


Bono has the hardest time adapting to the format, falling back on his exaggerated lounge-lizard voice on &quotBeach Sequence,&quot on Velvet Underground quotes in &quotMiss Sarajevo&quot (which lifts the &quotHere she comes&quot from &quotFemme Fatale&quot), and on lyrical doggerel in the quasi-funk &quotElvis Ate America&quot: &quotElvis, didn't smoke hash/Would have been a sissy without Johnny Cash.&quot U2 have made a few failed attempts to connect with Elvis, but after such lapses as &quotElvis Presley &AMP America&quot on Unforgettable Fire, Bono's solo &quotCan't Help Falling in Love,&quot and the laughable Graceland sequence in Rattle &AMP Hum, it's time for them to leave the poor guy alone.


Easily the most self-indulgent thing U2 have done, Original Soundtracks 1 has enough bright ideas to make the trip worthwhile and to raise the creative ante for next year's &quotrock&quot album. That's another thing that Eno's career - and, to lesser extent, U2's - has always been about: proving that self-indulgence can actually lead somewhere.