FEATURES
Straight from the author's mouth
Dan Savage! Salman Rushdie! Chris Elliot!? The fall-readings schedule has something for everyone.
BY NINA MACLAUGHLIN
Aside from its humanizing effect, seeing an author read facilitates a connection between two intimate experiences: the solitary act of reading and the solitary act of writing. It can be inspiring, humbling, enlightening, annoying. It can shatter your image of a benevolent, charming, intelligent deity - some authors do ooze hubris. It can confirm your devotion. Or it can make clear (perhaps disappointingly) that this is a human being - like you! - who happens to write instead of scoop ice cream or walk dogs or sit in a cubicle. Chances are authors who read from their work will affect their auditors in all or some of the above ways. Below you'll find this fall's readings, broken down by location. All are free unless otherwise noted.
George Saunders's short new novel, The Brief and Frightening Reign of Phil, has been hailed as a next generation's Animal Farm. In this allegory of two tiny nations and a blowhard, jingoistic leader, Saunders employs his unique blend of political insight and soaring imagination. Hear him read on October 7 at 7:30 pm at Newtonville Books, in Newton.
Local author Christopher Castellani's first novel, A Kiss from Maddelena, a deeply felt story of love and war in Italy, won the Massachusetts Book Award. His latest, The Saint of Lost Things, with similarly lush and lucid prose and depth of feeling, picks up Maddelena's story after she's migrated to the US, struggling with her husband to achieve the American Dream. Castellani is joined by Amanda Eyre Ward, author of How To Be Lost, on October 26 at 7:30 pm at the Attic, 107 R Union Street, in Newton.
In Benjamin Kunkel's heady debut novel, Indecision, the 28-year-old hero, Dwight, is mired in a den of slack and vacillation. His antidote to the situation is an untested drug that promises resolve and strength of will. Kunkel is joined by the young and well-connected Nick McDonell (Twelve), who reads from his second novel, The Third Brother, on October 13 at 6:30 pm at Harvard Bookstore, in Cambridge.
The peerless Salman Rushdie decants his experience with church-state conflict into his latest novel, Shalimar the Clown, which spans the globe and six decades in an exploration of terrorism, extremism, and multiculturalism. He reads on November 7 at 6:30 pm at First Parish Church, Mass Ave and Church Street, in Cambridge; $3.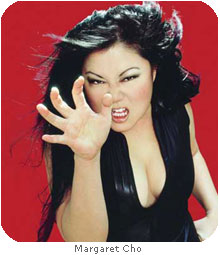 I Have Chosen To Stay and Fight, Margaret Cho's latest work, features her trademark blend of humor and rage as she rallies for civil liberties and rails against misogyny, racism, homophobia, and war. She speaks on October 26 at 7 pm at Brookline Booksmith, in Brookline.
Phoenix contributor Clea Simon (The Feline Mystique) reads from Mew Is for Murder, her debut fiction which follows freelance writer Theda Krakow as she tries to solve a Cambridge murder. The gumshoeing takes her all over Boston neighborhoods, from rock haunts to coffee shops. Simon reads with Dana Cameron, author of More Bitter Than Death, and Lea Wait, Shadows at the Spring Show, on October 26 at 7 pm at Porter Square Books, in Cambridge.
Local writer Barbara Sutton peoples her Flannery O'Connor Award-winning short-story collection, The Send-Away Girl, with the overeducated and hyper-aware types you find around here. She reads along with Daphne Kalotay, author of Calamity and Other Stories, on November 4 at 8 pm at the Out of the Blue Gallery, in Cambridge.
A decade has passed since Gregory Maguire's Wicked. Now, his sequel, Son of a Witch, considers the possibility that the Wicked Witch of the West had a son. He reads on October 6 at 7 pm Porter Square Books, in Cambridge.
Newtonville Books
296 Walnut Street, Newton, 617.266.6619, www.newtonvillebooks.com
Karl Iagnemma, On the Nature of Human Romantic Interaction; Allegra Goodman, Intuition; David Schickler, Sweet & Vicious, October 1, 8 pm, Attic, 107 R Union St, Newton
David Gessner, The Prophet of Dry Hill, October 4, 7:30 pm
Nick McDonell, The Third Brother, October 5, 7:30 pm, Attic, 107 R Union Street, Newton
Brock Clarke, Carrying the Torch; Don Silver, Backward-Facing Man, October 11, 7:30 pm
James Lasdun, Seven Lies, October 12, 7:30 pm
Katherine Towler, Evening Ferry; Amy Belding Brown, Mr. Emerson's Wife, October 13, 7:30 pm
Stacey D'Erasmo, A Seahorse Year; Kate Benson, Two Harbors, October 18, 7:30 pm
David Means, The Secret Goldfish; Jennifer Haigh, Baker Towers, October 20, 7:30 pm
Thomas Beller, How To Be a Man: Scenes from a Protracted Boyhood; Tom Perrotta, Little Children,
October 25, 7:30 pm
Adam Boren, Journey Through the Inferno, November 1, 7:30 pm
Lily King, The English Teacher, November 2, 7:30 pm
Jonathan Rosen, Joy Comes in the Morning, November 8, 7:30 pm
Michael Parker, If You Want Me To Stay; Douglas Trevor, The Thin Tear in the Fabric of Space,
November 9, 7:30 pm
Stephanie Kallos, Broken for You, November 15, 7:30 pm
Peter Guralnick, Dream Boogie: The Triumph of Sam Cooke, November 16, 7:30 pm
David Wolman, A Left-Hand Turn Around the World: Chasing the Mystery and the Meaning of All Things Southpaw, November 17, 7:30 pm
Alice Mattison, In Case We're Separated, November 30, 7:30 pm
Laura MacDonald, Curse of the Narrows: The Halifax Disaster of 1917, December 1, 7:30 pm
Mary Morris, Revenge, December 8, 7:30 pm
Harvard Book Store
1256 Mass Ave, Cambridge, 800.542.READ, www.harvard.com
Dan Savage, The Commitment: Love, Sex, Marriage and My Family, October 1, 5 pm, Brattle Theatre, 40 Brattle Street, Cambridge, $5
Jennifer Harbury, Truth, Torture, and the American Way: The History and Consequences of US Involvement in Torture, October 4, 6:30 pm
Robert Pinsky, Life of David, October 6, 6:30 pm, Beren Hall, Harvard Hillel, 62 Mount Auburn Street, Cambridge
Peter Singer, In Defense of Animals, October 7, 3 pm
Barbara Ehrenreich, Bait and Switch: The (Futile) Pursuit of the American Dream, October 7, 7 pm, First Parish Church, Mass Ave and Church Street, Cambridge
Harold Bloom, Jesus and Yahweh: The Names Divine, October 10, 6:30 pm, First Parish Church, Mass Ave and Church Street, Cambridge
Joshua Wolf Shenk, Lincoln's Melancholy: How Depression Challenged a President and Fueled His Greatness, October 14, 3 pm
Joan Didion, The Year of Magical Thinking, October 14, 6:30 pm, First Parish Church, Mass Ave and Church Street, Cambridge, $3
Mary Oliver, New and Selected Poems, October 21, 6 pm, Sackler Museum 485 Broadway, Cambridge
Stephen M. Walt, Taming American Power: The Global Response to US Primacy; Senator Bob Graham, Intelligence Matters, October 25, 6 pm, venue to be decided
James Shapiro, A Year in the Life of William Shakespeare, 1599, October 26, 6:30 pm
Alan Hollinghurst, The Line of Beauty, October 28, 6 pm, Brattle Theatre, 40 Brattle Street, Cambridge
Said Hyder Akbar, Come Back to Afghanistan: A Californian Teenager's Story, October 31, 6:30 pm
Billy Collins, The Trouble with Poetry, November 1, 6 pm, Sackler Museum, 485 Broadway, Cambridge
Laila Lalami, Hope and Other Dangerous Pursuits; Christopher Castellani, The Saint of Lost Things, November 8, 6:30 pm
Benjamin Friedman, Moral Consequences of Economic Growth, November 10, 6:30 pm
Jerome Karabel, The Chosen: The Hidden History of Admission and Exclusion at Harvard, Yale, and Princeton, November 14, 6 pm, Askwith Hall, 13 Appian Way, Cambridge
Sean Wilentz, The Rise of American Democracy, November 15, 6:30 pm
J.R. Moehringer, The Tender Bar, November 16, 6:30 pm
Thomas Glave, Words to Our Now: Imagination and Dissent, November 18, 3 pm
Suzy Staubach, Clay: The History and Evolution of Humankind's Relationship with Earth's Most Primal Element, November 28, 6:30 pm
Brookline Booksmith
279 Harvard Street, Brookline, 617.566.6660, www.brooklinebooksmith.com
John Berendt, The City of Falling Angels, October 3, 6 pm, Coolidge Corner Theatre, 290 Harvard Street, Brookline, $2
David Gessner, The Prophet of Dry Hill, October 5, 7 pm
Michael Tougias, Ten Hours until Dawn, October 6, 7 pm
Don Silver, Backward-Facing Man; Jeffrey Lewis, The Conference of Birds, October 10, 7 pm
B.K.S. Iyengar, Light on Life, October 11, 7 pm
Chris Elliott, The Shroud of the Thwacker, October 12, 7 pm, Coolidge Corner Theatre, 290 Harvard Street, Brookline, $5 (with a screening of Cabin Boy)
Mary Roach, Spook, October 13, 7 pm
Jon Katz, Katz on Dogs, October 17, 7 pm
Miriam Weinstein, The Surprising Power of Family Meals, October 18, 7 pm
Anita Shreve, A Wedding in December, October 20, 7 pm
Linda Roghaar, Knit Lit the Third, October 23, 4 pm
Jung Chang and Jon Halliway, Mao: The Unknown Story, October 24, 7 pm
James Mercer, Times Was Soft There; Amir Aczel, Descartes' Secret Notebook, November 8, 7 pm
Mary Gaitskill, Veronica, November 9, 7 pm
Paul Collins, The Trouble with Tom, November 10, 7 pm
Howard Zinn + David Zirin, What's My Name, Fool?, November 12, 1 pm, Coolidge Corner Theatre, 290
Harvard Street, Brookline, $2
Susan Orlean + Robert Atwan + Mark Greif + David Masello, The Best American Essays 2005, November 14, 7pm
Philip Hilts, Rx for Survival, November 15, 7 pm
Andrew Delbanco, Melville: His World and Work, November 16, 7 pm
Tova Mirvis + Rachel Kadish + Rebecca Goldstein, The Modern Jewish Girls' Guide to Guilt, November 17, 7 pm
PD James, The Lighthouse, December 1, 6 pm, Coolidge Corner Theatre, 290 Harvard Street, Brookline, $2
Ellen Cooney, A Private Hotel for Gentle Ladies, December 6, 7 pm
Abelardo Morell, Abelardo Morell, December 8, 7 pm
Marge Piercy, Sex Wars, December 15, 7 pm
Porter Square Books
Porter Square Shopping Center, Cambridge, 617.491.2220, www.portersquarebooks.com
Richard Hoffman, Half a House, October 3, 7 pm
Tracy Kidder, My Detachment, October 7, 7 pm
Michael Tougias, Ten Hours until Dawn, October 8, 3 pm Grub Street Instructors, October 13, 7 pm
Jane Brox, Clearing Land, October 19, 7 pm
Deborah Noyes, Angel and Apostle, October 20, 7 pm
Forrest Gander, A Faithful Existence, November 4, 7 pm
Frannie Lindsay and Ellen Steinbaum, poetry, November 9, 7 pm
Margot Livesey, Banishing Verona; Sheila Kohler, Crossways, November 10, 7 pm
Clare Walker Leslie, Drawn to Nature, November 13, 2 pm
Julia Briggs, Virginia Woolf: An Inner Life, November 16, 7 pm
Jonathan Ceely, Bread and Dreams, December 1, 7 pm Grub Street Student Reading, December 8, 7 pm
David Ebenbach, Between Camelots, December 15, 7 pm
Harvard Coop
1400 Mass Ave, Cambridge, 617.499.2000, www.harvard.bkstore.com
David Allan Cates, X Out of Wonderland, October 3, 7 pm
Anne Nivat, The Wake of War, October 7, 7 pm
William Wright, Harvard's Secret Court, November 1, 7 pm
Paul E. Doyle, Hot Shots and Heavy Hits: Tales of an Undercover Drug Agent, November 10, 7 pm
Al Franken, The Truth (With Jokes), November 15, 7:30 pm, Charles Hotel, 1 Bennett Street, Cambridge
BU Book Store
660 Beacon Street, Boston, 617.267.8484, www.bu.bkstore.com
Gregory Maguire, Son of a Witch, October 15, 2 pm
Ron Powers, Mark Twain: A Life, October 20, 7 pm
Elie Wiesel, The Time of the Uprooted, October 31, 5 pm
Doris Kearns Goodwin, Team of Rivals, November 7, 7 pm
Center for New Words
186 Cambridge Street, Cambridge, 617.876.5310, www.centerfornewwords.org
Ivan E. Coyote, Loose End; Anna Camilleri, Red Light, October 16, 7 pm, Spontaneous Celebrations, 45 Danforth Street, Jamaica Plain
Zainab Salbi, Between Two Worlds, October 17, 7 pm, Simmons College, 300 the Fenway, Boston
Robyn Ochs, Getting Bi: Voices of Bisexuals from Around the World, October 27, 7 pm
Gloria Gervtiz, Migraciones/Migrations, November 3, 7 pm, Simmons College, Alumnae Hall, 321
Brookline Avenue, Boston
Andrea Smith, Conquest, November 22, 7 pm
Out of the Blue Gallery
106 Prospect Street, Cambridge, 617.354.5287, www.outofthebluegallery.com
Jessica Shattuck, The Hazards of Good Breeding; Claire Messud, The Hunters, October 7, 8 pm