Toy glory
Be the cool aunt or the deranged uncle this holiday season
BY BILL JENSEN
Let the other folk in your family buy the iDog or the RoboRaptor. You're going to get gifts the kids will actually remember - for better or worse. Here are five toys sure to make an impact.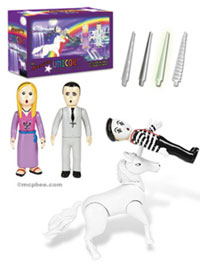 Avenging Unicorn Play Set ($12.95)
Archie McPhee makes Band-Aids that look like bacon strips, a Jane Austen action figure, and stuffed animals of various internal parasites. But the deranged Seattle toy makers have outdone themselves this year with a play set featuring an almost four-inch-tall unicorn that impales three soft vinyl figures - a New Age woman, a mime, and a businessman. The kid across the street gets a Mon Mothma Star Wars figure. Your niece gets the bloodthirsty unicorn. You do the math. Available at www.mcphee.com.
Mattel Vidster ($80)
There's no better proof than video. Think of the blackmail opportunities a kid could have with their own video camera: catching teachers smoking on school grounds; catching cops working private security detail while still on the clock; catching mom with the cable guy. The Vidster costs less than 100 bucks, can record up to eight minutes of video, comes with its own editing software, and, most important, can take a beating.
Political Board Games ($5-$50, on eBay)
The mother of all political board games is Diplomacy (Avalon Hill, $40), and for good reason (it's Kissinger's favorite game, and JFK used to play it in college). But log on to eBay and you'll find a wealth of lesser-known games to play with the budding Menino in the family - from Parker Brothers's wholesome The Game of Politics (1952) to 1976's Lie, Cheat & Steal, the Game of Political Power, in which "you and up to five of your shifty friends can get in on the dirty-dealing, backstabbing and thinly disguised thievery that make up the real political world." Just imagine your 10-year-old brother playing Who Can Beat Nixon, Beat The Draft, or The Watergate Scandal: a game of cover-up and scandal for the whole family. It's enough the make a political animal cry.
LEGO Factory ($20 and up)
LEGO, Danish for "Ahhh! Who the fuck left this on the floor!", has the best toy to fly under the radar this season. Go to LEGO.com and download the LEGO Digital Designer software, and with digital bricks, create whatever comes into your head: the Citgo sign, Johnny Damon's beard, your apartment in Allston (complete with empty PBR bottles).
Give them your credit card and in a few weeks you'll get all the pieces and instructions so you and the gift-getter can build your creation together.
The Warriors action figure ($15) and DVD ($13)
This fall, toy maker Mezco, which has been splitting its time between Living Dead Dolls and action figures of cult movies like Scarface and Edward Scissorhands, released five articulated gangsters from Walter Hill's 1979 classic The Warriors. You know the Warriors, they're that bunch from Coney. If you're gonna buy just one, go with Cochise, complete with Molotov cocktail (to waste the Orphans), wooden board with nails, spray can, and feathered headband (you can also get Luther, Swan, Cleon, and a Baseball Fury). The movie, though rated R, is actually quite tame for the kids, except when Deborah Van Valkenburgh speaks. Hey, come to think of it, where's her action figure?