The future 10, continued



---

Related Links

These awards, made annually, recognize excellence in journalists under the age of 35.

This short documentary offers a satiric and chilling look at how the media may evolve in the next 10 years.

Journalism Education Association

This organization helps foster the development of student journalism and journalism education throughout the country.

Chris Snow, 24, Red Sox beat reporter for the Boston Globe
On the first day of his first job after graduating from Syracuse University, Chris Snow ó who was covering hockey for the Minneapolis Star Tribune ó had to handle the death of Herb Brooks, the Minnesota native most noted for coaching the US hockey team to its "Miracle on Ice" gold medal in the 1980 Olympics. There was only one problem: "I wasnít alive when all that happened," says Snow. "I was born in 1981."
A Melrose native, Snow always dreamed of working for the Globe, which his father brought home every day after work. Now, in his early 20s, he covers the most intensely scrutinized team in perhaps the most baseball-crazed city in America. (Even as a Globe intern in his college days, Snow managed to get his share of Sox bylines, writing ó by his estimation ó 60 or 70 baseball stories during those stints.)
Snow believes his youth helped get him such a coveted job. "Youíre single, youíre flexible, and you work hard," he says. "Itís such a demanding, consuming job, the burnout factor is pretty significant." But he acknowledges that "it takes time" for a young writer to win the respect of some players. "Age I had to overcome and inexperience I had to overcome," he adds. "Regardless of how old you are, how you carry yourself speaks for itself."
Those young legs help. Snow estimates heís already covered about 150 spring-training and regular-season Sox games this year. And thatís not counting the playoffs. "Iím too young and too fortunate to be in this position, to be honest with you," he adds self-consciously.
Zain Verjee, 31, anchor for CNN International
At an age at which most young people are worried about how theyíre going to spend the weekend, Nairobi-born Zain Verjee had worked as a DJ at that cityís first private radio station, freelanced for the BBC, and anchored the news on the Kenyan Television Network.
"You can imagine what my social life was," she jokes.
Today, the Atlanta-based Verjee co-anchors CNN Internationalís Your World Today newscast and is a regular contributor to CNNís new afternoon show, The Situation Room, with Wolf Blitzer. She stays on The Situation Room set for the entire three hours of the show because "every time I leave, something happens."
A graduate of McGill University in Montreal with a degree in English, Verjee has immersed herself in a number of causes including the fights against AIDS and violence against women. She recently published a childrenís book about a young Kenyan girl interested in the broadcasting business. "The career trajectory I followed in some ways has been non-traditional," she says.
Having been hired by CNN International five years ago as a copywriter, Verjee quickly made it on the air. She now describes herself as "sort of International Person 101," with the job of making global news "relevant, either through a level of familiarity that has an obvious US connection or to be able to simplify a story and get the message out."
Asked what sheíd like to be doing in five years, Verjee makes clear that she wants to improve on an already impressive career. "Iíd like to be better than what I am today," she says. "I would like to have a broader understanding ... more visceral field reporting. For now, Iím trying to develop."
Anya Kamenetz, 25, author, writer, blogger
Anya Kamenetz has written about everything from the impact of Hurricane Katrina on the city where she went to high school (New Orleans) to the strange experience of going to a party where everyone is naked. But the author of the Village Voiceís "Generation Debt" column, who will soon publish her first book, titled Generation Debt: Why Now is a Terrible Time to be Young, seems to be emerging as a voice for politically and economically disenfranchised twentysomethings.
"The whole dot.com thing has passed," says Kamenetz, who graduated from Yale seven months after the 9/11 attacks. "There was a feeling among my peers and I that we had gotten a bum deal, sort of. Politically things were going badly, economically things were going badly."
The daughter of two writers (her father, Rodger Kamenetz, wrote The Jew in the Lotus), she worked as a research assistant for writer Susan Orlean, who took an interest in a story Kamenetz had written for the New Journal magazine at Yale. She began contributing as an intern for the Village Voice ó writing music and book reviews ó during her senior year in college. A Voice assignment on "the new economics of being young" soon turned into the "Generation Debt" column.
Now, Kamenetz seems determined to use her journalistic skills to help galvanize a broader movement.
"I have a political agenda. We can take the AARP (American Association of Retired Persons) as a model and really take on those generational issues," she says. "I have grown up in a time of unique disaffection from the political process among me and my peers."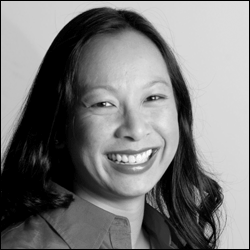 Kristen Go, 29, assistant city editor of the Scottsdale Republic
Kristen Go was a reporter at the Denver Post on that spring day six years ago when the bodies started piling up at Columbine High School. She was quickly dispatched to the local trauma hospital, becoming part of the team that won a 2000 Pulitzer Prize in the "Breaking News Reporting" category. Later, Go was assigned to a series focusing on students at a local high school, at least in part due to her youth. "Because I was the youngest person on staff," she says, "they decided I would be able to fit in with high-school kids."
A Stockton, California, native, Go recalls catching the journalism bug from her older sister, who edited the high-school paper and "was allowed to travel to different conventions and workshops, and I thought, Ďmy God, thatís a great way to get out of class.í " Go was eventually named high-school journalist of the year by the Journalism Education Association, an award she describes as "kind of like Miss America without the swimsuits."
Five years ago, she arrived at the Arizona Republic after that paper won a bidding war for her services. She started out as an education reporter, but two years later was moved to the paperís Scottsdale office and is now an assistant editor at the Scottsdale Republic ó a daily community paper inserted into the Arizona Republic. In that job she oversees eight reporters.
"So far, this is a career path I do like," says Go, who initially planned on being a newspaper feature writer. "The fact of the matter is there arenít a lot of people my age who are editors or people who look like me who are editors."
"I know itís scary," says Go of the circulation and revenue problems plaguing the newspaper industry. "I think that we still provide a very valuable service. I think our business model isnít quite working."
page 1
page 2
page 3